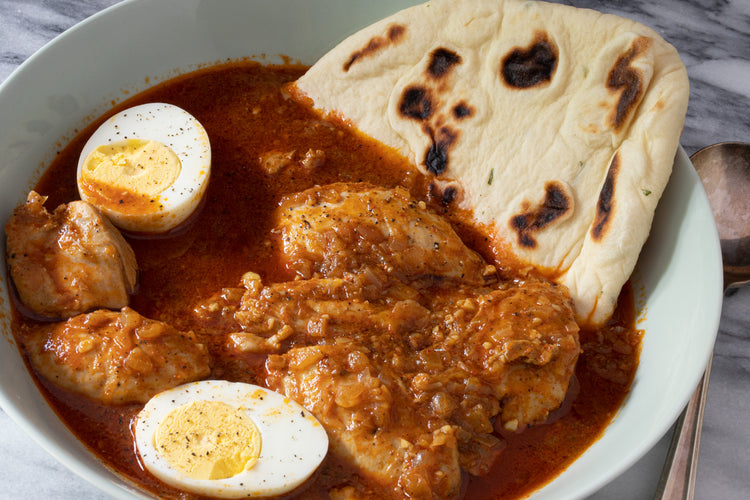 Doro wat is an onion-based chicken stew from Ethiopia. If you walk into any Ethiopian or Eritrean restaurant around the world, you will undoubtedly be served this incredibly tasty dish. Doro wat is frequently served on top of injera with other wats and salads. During the Lent period before Easter, different types of lentis, chickpeas, and vegetables are often consumed.
You will notice many recipes published on the internet call for the use of chicken stock. This is normally needed where a smaller quantity of onions have been used, and therefore, more liquid is needed. In recipes where a significant quantity of onions has been used, the extra liquid is not necessary as there is enough wat base for cover; the chicken pieces will cook on a low heat resulting in the sweating out of its own liquids. Naturally, you will be cooking this in your kitchen to suit your time and effort. If by your judgment, the recipe could use more moisture, add a little water as required.
2 pounds (800 grams) chicken tigh and drumsticks

1 small lemon, juiced

6 tablespoons vegetable oil, clarified butter, ghee, or niter kibbeh, fragrant butter

6 large red onions, chopped

2 tablespoons berbere spice mix, more or less to taste

1 (1-inch) piece) fresh ginger, peeled and finely chopped

2 to 3 cloves garlic, finely chopped

Salt, to taste

11 ounces (450 milliliters) water, or chicken stock, add as needed

1 tablespoon garam masala

6 large hard-boiled eggs, peeled
STEPS
Gather the ingredients.
Marinate the chicken pieces in the lemon juice. Refrigerate, covered, while you cook the onions.
Heat 2 tablespoons of the oil or butter in a large Dutch oven, or other heavy-duty pot over medium-low heat, add the onions and cook gently for an hour until reduced into a sweet paste. Stir occasionally to prevent burning.
Add the remaining 4 tablespoons oil or butter. Add the berbere spice, followed by the ginger and garlic and fry until fragrant. More berbere spice can be added depending on how much heat is desired
Add the chicken pieces to the pot along with the stock and 1 teaspoon salt. Simmer on low heat for 40 minutes until the chicken is cooked. Halfway through, sprinkle the garam masala over the wat and continue cooking, stirring occasionally.
Add the boiled eggs to the wat and stir to coat completely. Adjust the seasoning with salt, if desired. Serve the doro wat on top of injera to enjoy it the traditional way. Alternatively, this can be enjoyed with Indian flatbread or rice.
The Sprus Eat