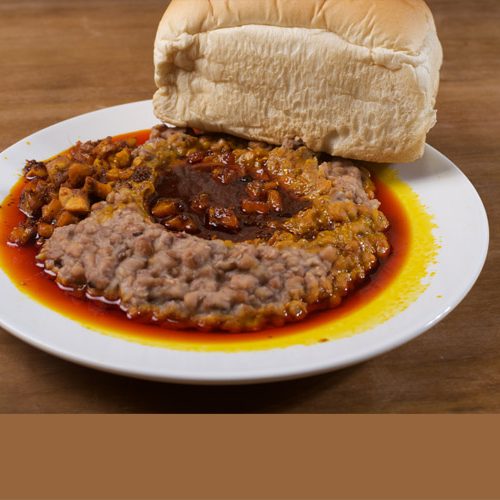 This hearty ewa aganyin and it's sauce is perfect for those who truly enjoy flavorful spicy foods. Made with chilis (Cameroun peppers) and dried red bell peppers (tatashe) with lots of Onions
This recipe came to Nigeria through the influence of the Agoyin People from Cotonou in Lagos and Nigerians have gladly accepted this meal.
Ewa Agoyin (Ewa Aganyin) is a very popular street food, especially on Lagos streets in Nigeria and it is very easy to prepare at home. It is made by boiling Beans until it's really tender then mashing it.
This delicious meal is usually accompanied by a spicy stew which is usually referred to as Ewa Agoyin (Ewa Agoyin) Stew. Ewa Aganyin sauce is a spicy sauce made with dried tatashe, chili pepper, and lot of onions.
What type of Pepper is best for making Ewa Aganyin Sauce?
We usually use dried tatashe to make this recipe traditionally. However, I know this may be hard to get if living outside home. Dont worry, ShopAfrica ha got you covered. Click here to shop everything and anything you need to get that rich and authentic Africa taste. 
Ingredients for making Ewa Agoyin (Ewa Aganyin)
Water

 

– enough to cook the beans
Dried Chili

 

Can be found at the local market or grocery stores
Red bell pepper

 

–
Onion

 

– Fresh onion not dried
Palm oil

 

– Not replaceable
Seasoning and spices: ginger, cray Fish, seasoning cubes and salt
Directions for making Ewa Agoyin (Ewa Aganyin)
Pick out the specks of dirt from the beans, rinse and drain the beans a couple of times.

Pour the beans in a stockpot, add the water and cook till it becomes very tender – about 2 to 2½ hours.

Use a Potato Masher or a wooden spoon to mash the Beans to your preference.
Directions for cooking Ewa Agoyin / Ewa Aganyin Stew
Rehydrate the dried Chilies and bell peppers by soaking them in water overnight or pour hot boiling water over them for about 2 hours

Blend the rehydrated Peppers with the onions, ginger, and about a quarter cup of water and set aside.

Preheat the Palm oil in a pan on medium heat until the oil is very hot but not bleached.

Add the sliced onion and let it cook for about 10 to 15 minutes. We want it browned and not black or burnt.

Stir in the blended peppers and cook for about 10 minutes

Add the seasoning cubes, crayfish, and salt to taste.

Leave it to cook for another 5 to 10 minutes; by this time, the color of the pepper would have changed from bright red to dark red. If not, cook for some additional time.

Serve the Sauce over the Ewa Agoyin (Ewa Aganyin) or eat with your Agege Bread and Enjoy!
Lola Osinkolu