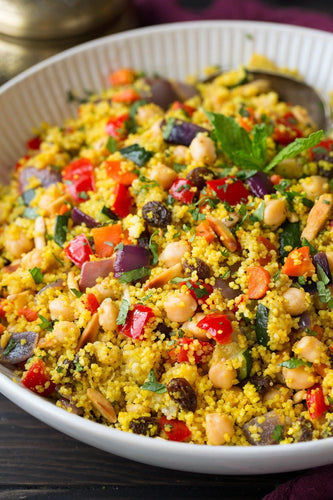 Pasta salad is a great way to make lunch (or dinner) for the week ahead. We like to use unexpected shapes and sizes to make ours feel new again. Here we employed Israeli couscous, lentil-sized balls of chewy pasta, but you could use orzo, ditalini or even Fregola, a toasted couscous, similar in size to the Israeli kind. We've used golden raisins and pistachios here (because they're pretty) but you could use chopped dried apricots and roasted almonds in their place. Use about half the dressing to coat the salad then give it a taste, adding more, a tablespoon or two at a time, until it's dressed to your liking.
Igridients
Direction
Preheat oven to 475°F. Toss cauliflower, pepper, paprika, ¼ cup of the oil, and 1 teaspoon of the salt in a large bowl. (Do not clean bowl.) Spread cauliflower in a single layer on a rimmed baking sheet. Roast, shaking sheet halfway through, until browned and tender, 15 to 18 minutes.
Prepare couscous according to package directions; drain.
Whisk together lemon zest, lemon juice, vinegar, honey, mustard, remaining ½ cup oil and ¼ teaspoon salt in a large bowl. Add cauliflower, couscous, scallions, pistachios, and raisins and toss to combine.