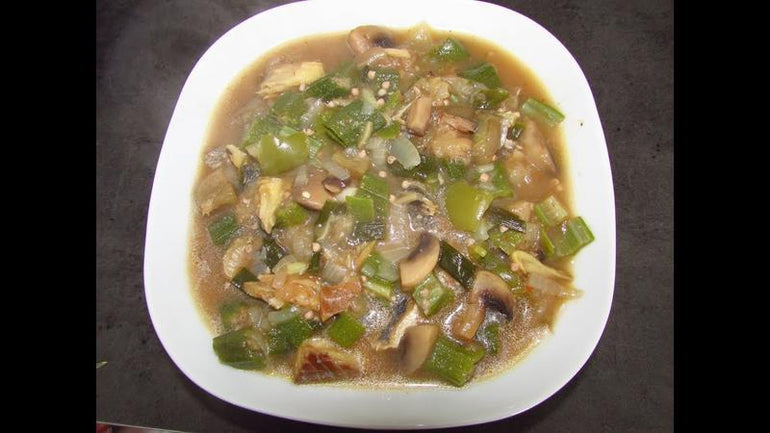 Dongo-Dongo is another example of an African dish that is both a sauce and a soup. It is sometimes made with fish, and sometimes with meat, but always with okra. Given that gombo or gumbo is the most common Central African name for okra, and that Dongo-Dongo is basically an okra soup, it seems likely that this recipe is a distant African relation of the famous Cajun-Creole Gumbo of Louisiana. See the early okra and gumbo recipes in the Rare African Recipes pages.
INGREDIENTS
2 onions, finely chopped
 2 chile peppers, cleaned and finely chopped
24
okra, ends removed, cleaned, and chopped — remember that the more it is cut, the slimier it becomes
2
tbsp
Arome Maggi sauce or two Maggi cubes with water
dried, salted, or smoked fish, cleaned and rinsed (use a little just as a flavoring, or enough for everyone to have a serving)
a pinch of baking soda (optional)
½
cup
tomato paste (optional)
INSTRUCTIONS
 1Heat oil in a deep pot. Sauté onions and garlic for a few minutes.
2
Add Maggi® sauce or Maggi cubes, okra, and peppers. Cook for several minutes.
3
Add enough water to cover. Bring to a boil, then reduce heat and add fish.
4
If desired, add the baking soda (for a gooey sauce) or the tomato paste (for a red sauce). Simmer until the okra and fish are tender.
Dongo-Dongo is usually served with a starch, such as Fufu or any swallow of choice