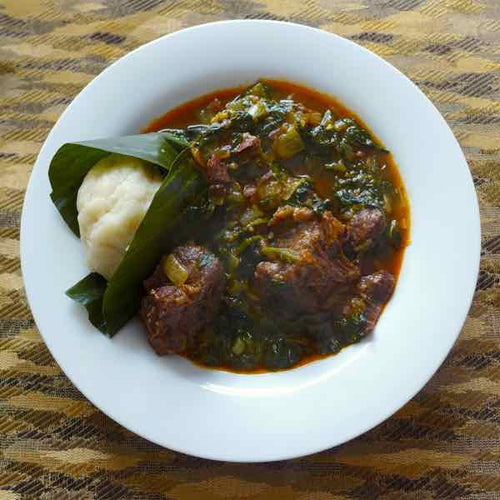 Gboma dessi is a conventional feast in Togo. This meal is mostly eaten in the night and it is gotten from meat and spinach. The elements for this supper include;
Ingredient
Spinach
Goat meat (or whatever protein you pick), cut into huge pieces. 
3 cut onions 
3 minced garlic cloves 
1 tablespoonful of minced ginger 
2 chicken blocks 
5 tablespoonful of palm oil 
2 hot peppers 
1 jar of pureed tomatoes 
Temi zest (mix of cloves, anise, ajwain, cardamom seeds broiled and ground, at that point blended in with ground ginger) 
Salt and pepper to taste 
 Get a pressing factor cooker, add a little oil and sauté one onion, a clove of garlic and ginger for two minutes. Add meat, salt, one chicken block and pepper. Add little water and close the pressing factor cooker. Cook over high warmth to develop the pressing factor until you hear your first whistle. At that point diminish the warmth and cook till meat turns out to be delicate as you want. 
While you are soaking your meat, wash your spinach and cleave it at that point add it to salted bubbling water over warmth for 15 minutes. 
At the point when your meat is sufficiently delicate, eliminate it from the pot, channel and leave in a bowl. Season the meat with Gbotemi flavor and keep the stock in the pot. 
Get a pan and sauté two onions, two cloves of garlic with the excess palm oil or vegetable oil. Add the tomato puree and mix routinely for 15 min. Season with dry pepper, hot pepper and one chicken 3D square. 
Add the stock and bubble over medium warmth for 20 min. Add depleted spinach leaves, meat and leave to stew for at any rate 15 minutes. 
Gboma dessi can be presented with white rice, Ablo, or Akume.