Roll over image to zoom in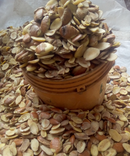 Description
Ogbono seeds are also known as the bush mango seeds while the botanical name is Irvingia gabonensis. Ogbono seeds are used to prepare popular draw soup in Nigeria mostly by the Eastern part. The soup can be eaten plain, with no added vegetables, or you can decide to add your favorite vegetables to the soup.
Ogbono fruits are also famous for their ability to supply the body with fiber, antioxidants and many other nutrients like iron, potassium, calcium, zinc and vitamins B and C. This fruit is definitely a good source of vitamins and valuable substances!. 
Payment & Security
Your payment information is processed securely. We do not store credit card details nor have access to your credit card information.