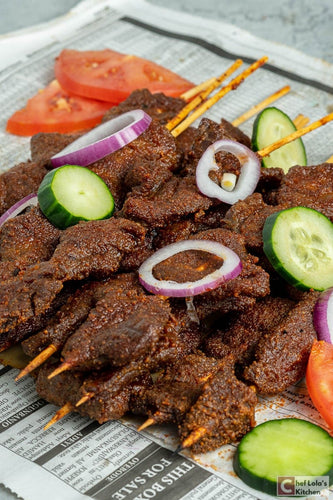 Total Time:
2 hrs 30 mins
This incredibly flavorful, West African-style skewer started out as a geographically appropriate main course to pair with a batch of Jollof rice, but quickly turned into my new favorite marinade for beef. 
How to Make Suya
The detailed suya recipe is below, but here are some chef's notes: 
Peanut butter is key: The key to the whole operation is peanut butter, which isn't the first ingredient when you think of classic marinades for meat, but it really works wonders here.
Perfect caramelization: The first time I tried it, I was a little bit skeptical, since I thought the peanut butter would burn on the hot grill, and if you've ever eaten burned nuts, you know it's not a very pleasant flavor. But, somehow it doesn't burn, and instead caramelizes and browns beautifully. Yes, I very much loved how this came out visually, but the taste and texture were even more impressive.
Crowd-pleasing flavor: I'd describe the flavor as unusual, but at the same time, familiar and comforting. As I touched on in the video, this reminds me of some of my favorite foods, from some of my favorite places, and I will be grilling this again soon. 
I'd also like to try the more authentic method, using ground peanuts instead of peanut butter. But, in the meantime, I absolutely loved this version. I really hope you give it a try soon. Enjoy!
Ingredients
1/4 cup creamy natural peanut butter

 

1/2 small yellow onion, grated

 

2 tablespoons tomato paste

 

1 tablespoon olive oil

 

1 tablespoon kosher salt (or 1 1/2 teaspoons fine table salt)

 

2 teaspoons smoked paprika

 

1 teaspoon allspice

 

3/4 teaspoon garlic powder

 

1/2 teaspoon cayenne pepper

 

1/2 teaspoon freshly ground black pepper

 

1/4 teaspoon powdered ginger

 

2 pounds top sirloin steak cut into 1.5-inch cubes
Directions
Combine peanut butter, grated onion, tomato paste, olive oil, salt, paprika, allspice, garlic powder, cayenne, black pepper, and powdered ginger in a mixing bowl. Stir until well combined.

Add steak pieces to the marinade bowl and toss to coat thoroughly. Cover and allow to marinate in the refrigerator for about 2 hours.

Preheat an outdoor grill with coal for high heat and lightly oil the grate.

Thread marinated steak pieces onto large metal skewers.

Grill over the hot white coals until desired doneness, 5 to 6 minutes per side.

CHEF JOHN

Cook's Note:

Garnish beef skewers with red onions, lime wedges, green onions, chopped cilantro, and chopped peanuts if desired.
Nutrition Facts
(per serving)
| | |
| --- | --- |
| 349 | Calories |
| 22g | Fat |
| 4g | Carbs |
| 33g | Protein |
Nutrition Facts

Servings Per Recipe

8

Calories

349

% Daily Value *

Total Fat

22g
28%

Saturated Fat

7g
36%

Cholesterol

104mg
35%

Sodium

568mg
25%

Total Carbohydrate

4g
1%

Dietary Fiber

1g
5%

Total Sugars

1g

Protein

33g

Vitamin C

1mg
6%

Calcium

34mg
3%

Iron

2mg
13%

Potassium

506mg
11%
* Percent Daily Values are based on a 2,000 calorie diet. Your daily values may be higher or lower depending on your calorie needs.
** Nutrient information is not available for all ingredients. Amount is based on available nutrient data.
(-) Information is not currently available for this nutrient. If you are following a medically restrictive diet, please consult your doctor or registered dietitian before preparing this recipe for personal consumption.
Powered by the ESHA Research Database © 2018, ESHA Research, Inc. All Rights Reserved