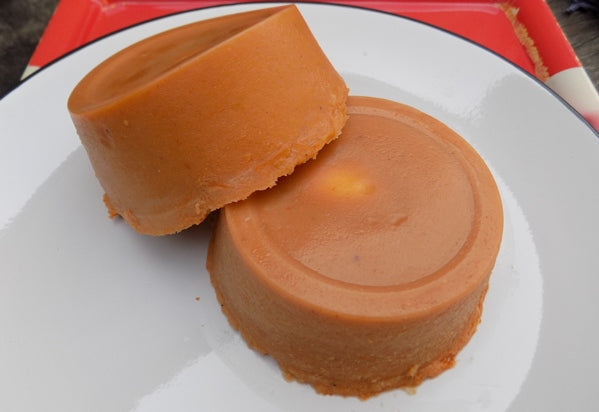 Nigerian Moi Moi is a great dish accessory in Nigeria. It is commonly seen accompanying Jollof Rice, Fried Rice, Fried Plantain, Custard, Pap, etc. It can even be eaten alone as a snack with a chilled soft drink to wash it down.

Due to its popularity, Moi Moi is often served at parties, dinners and other special occasions.
These are the following quantity of ingredients used in cooking Moi Moi in large quantity. It should be stored in a freezer when cooked in large quantity. The following quantities of ingredients make 12 aluminium bags of Moi Moi. Each bag weighs 420g. 
3 cigar cups or 750g Beans 
5 tablespoons ground

 

crayfish
4 big stock cubes
1 habanero pepper
2 teaspoons ground nutmeg
3 tatashe peppers or 800g watery tomato puree (sold outside Nigeria)
2 big onions
20cl vegetable oil
2 litres of cool or warm water
Salt (to taste)
Add any of the following to the Moi Moi
Hard boiled eggs: Cut the eggs into small pieces.
Bone Marrow: Cook the bone marrow with spices and herbs till done then add to the Moi Moi at the mixing stage.
Corned beef: Separate into small chunks and add to the moi moi during mixing. You can also add to the moi moi after dishing, then into cooking bowls or foil bags.
Aluminium foil

 

Plastic Bowls 
Uma Leaves

 

(Thaumatococcus daniellii)
Jacket Moi Moi
Cooker
Deep Pot
Spatula
Chopping board
Blender
Knives
1. The tomato puree gives the Moi Moi its classic peachy colour. If you are in Nigeria, the best ingredient to use is tatashe pepper. I do not like the taste of red bell peppers in my Moi Moi hence I do not recommend it but you can try it and see if you like it.
2.
Nutmeg
gives the Moi Moi its classic taste. If you've ever eaten Nigerian Moi Moi at a party and wondered why it tastes better than the ones you make, it is probably because you do not add nutmeg to your Moi Moi.
3. 2 litres of water is the exact quantity of water that gives me the perfect texture of Moi Moi that I and my family love. Please note that this quantity includes the water used in blending the
beans
. If using bone marrow, the quantity of stock should be part of the 2 litres of water you will use in mixing the Moi Moi. If after using this quantity and you are not happy with the texture, adjust the quantity of water accordingly.

4. It is best to use cool or warm water when mixing Moi Moi. You do not want to use hot water for this purpose as it may cause the mix to be lumpy.
5. Using the right amount of oil in your Moi Moi ensures that it has a good texture and rolls off the tongue when you eat it but feel free to use any amount of oil you want. And it is advisable to use tasteless and odourless oils in your Moi Moi so that rules out olive oil.
About three hours before cooking the moi moi, soak and wash the beans to

 

remove the coat. When the entire coat has been removed, place the beans in a bowl and pour enough water to cover it. Leave to soak for three hours. This is so that the best consistency will be achieved when you blend the beans.
It is advisable to use one out of eggs, bone marrow or corned beef, not the three at the same time. If you will use eggs, cook till hard boiled, cut into small pieces and set aside. If you prefer bone marrow, cook it with salt and Maggi / Knorr cubes and set aside the stock. If it is corned beef you will go for, open the can and separate the beef into small lumps.
Now go ahead and

 

prepare the moi moi containers.
Wash the tatashe pepper (if using it). Ensure you remove the tatashe seeds as they have a tendency to give meals a bitter taste.
Cut the onions into pieces, grind the crayfish with a dry mill. If using the heavy duty grinder in Nigerian markets, these won't be necessary.
Crush the stock cubes and set aside. Wash the habanero/scotch bonnet peppers and set aside.
Now that the beans is soaked (the bean seed is tender when you pinch it), it is time to blend it. It is very important that you use a very good blender for this purpose. The taste and feel of your Moi Moi depends so much on the consistency of the blend. If in doubt, put a small quantity of bean seeds in your home blender and grind to the best of its ability using as small quantity of water as possible. Feel the resulting paste with your fingers and if you notice any tiny pieces at all, then the blender is not good for Moi Moi. At this time, you may consider using the commercial heavy duty mills at your local market if you are in Nigeria. Yes, you have your health and hygiene concerns but most of the mill operators actually keep their mills clean. And they let you bring your own water and containers. So there you go!
Blend the beans, tatashe or tomato puree, onions, crayfish, habanero pepper and ground nutmeg together with some of the water and pour the mix into a big enough bowl.
Add the vegetable oil and the bone marrow stock (if this is what you have chosen to add to your moi moi).
Slowly add the remaining water and stir the mixture at the same time till you get a good mix of all the ingredients.
Add salt to taste and stir very well.


Note: Moi Moi is one of the Nigerian food recipes that is prepared cold. All the mixing and adding of ingredients is done off the stove. That is to say, once you start cooking, there is no going back! You cannot decide to add more salt or seasoning or a new ingredient later. So getting it right at the mixing stage is very important.

Pad the base of a big pot, pour some water and set on the stove. The depth of the water should be at most 1 inch.
Dish the Moi moi mix into containers of your choice, add egg/bone marrow/corned beef to each container, seal/cover and set them in the pot.
Add as small quantity of water as possible at a time while cooking the Moi Moi as detailed in

 

preparation and use of moi moi containers

 

so that the moi moi will not become watery when done. This is the case especially when using aluminium foil or uma leaves.
The length of time you will cook your Moi Moi depends on the quantity and the Moi Moi container you used.
The Moi Moi that gets done quickest is the one wrapped in Uma or Banana leaves, followed by Moi Moi wrapped in aluminum foils then the one that takes the most time is Moi Moi cooked in aluminium or plastic plates.
But whatever Moi Moi container you use, it is advisable to cook your Moi Moi for at least 1 hour, before checking it. Confirm that it is done by putting a knife through it, if the knife is stained with Moi Moi paste, then the Moi Moi is not done, but if the knife just has a slight smear of Moi Moi, then it's done. Also, when you cut through the Moi Moi, the insides will be set and not watery.
If you are cooking a few wraps of Moi Moi in a small pot on high heat, then it will only take about 45 minutes to get done while when you are cooking a large pot of Moi Moi, it will definitely take more than one hour.
Serve with chilled fruit juice. You can also serve with Peppered Fish and as a side dish to Jollof Rice, Fried Rice or Fried Plantains. For breakfast, serve with Custard or Pap.
-All Nigerian Recipes.