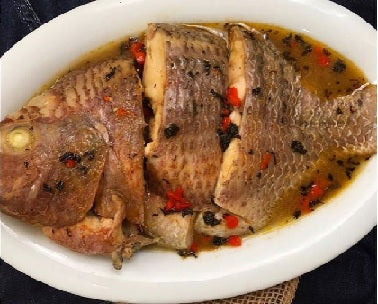 Fish pepper soup is a warming and calming West African soup prepared with catfish or tilapia fish, little vegetables, pepper soup spices, and cooked into a rich spicy broth. It's incredibly nutritious, filling, and delightful!
Lots of people adore fish pepper soup, it's a healthy and tasty delicacy cooked with local herbs.
Basically, fresh fish pepper soup is a great light meal to cook at home, that can be eaten at any time of day, whether it's cold or hot outside. Pepper soup can help you feel better in no time if you're sick or sense a cold coming on.
Pepper soup is gradually becoming a must-have in Nigerian parties. The most popular pepper soup served in Nigerian parties is fish pepper soup, which is constantly in great demand by visitors at Nigerian parties.
Fish Pepper Soup – Fresh Fish Pepper Soup Recipe
Fish pepper soup is indeed one of the fastest and easiest Nigerian pepper soups to make, though it demands good timing and attention. Catfish or Tilapia is typically the preferred fish, and I believe this is due to the fact that it is abundant in Nigerian rivers and is the most widely farmed fish species in the country.
However, during Omugwo, Yam pepper soup is given to nursing mothers after delivery which is called Ji mmiri oku in Igbo Language. There's a reason why fish pepper soup is termed point-and-kill (particularly catfish) in restaurants and bars(beer parlours). The super taste and flavor is what will always make you come back for more.
Fish Pepper Soup – How to Make Fish Pepper Soup Recipe
Ingredients
1 medium-size Fresh Fish (Tilapia or Catfish)
1/2 medium-size onion
3 Scotch bonnet pepper chopped (Atarodo)
1-2 tsp ground Crayfish
2 tablespoons Pepper soup spice(Ehuru, Uda, Uziza Seed, Prekese)
1/2 teaspoon Ginger powder
2 Seasoning cube
Efinrin/ Basil leaves/Uziza leaf/Utazi leaf (Dry or fresh)
Salt to taste
Instructions
First of all, clean your fresh fish and wash thoroughly, assuming its catfish; pour boiled water over the cut catfish and wash to remove the slimy outer skin. Immediately drain and rinse with cold water.
Secondly, transfer the already washed catfish into your cooking pot. (Preferably use a small pot so the fish will be close to each other) they will cook better and not fall apart this way.
Thirdly, combine the scotch bonnet peppers and crayfish, blend or pound them together with a mortar and pestle where blender is not available. Similarly, slice your Utazi leaves/Uziza leaf or scent leaves, onions, and set them aside in bowls.
Add 3 cups of water half, salt, seasoning cubes, 2 teaspoons pepper soup seasoning spice, then ground crayfish, and pepper.
Allow boiling for about 7 minutes then add your Tilapia fish cover and cook.
Taste for salt and pepper, add more if you like it peppery. Allow to cook for few minutes
Add the leaves, allow to simmer for 2 minutes and you have finished cooking your fresh fish pepper soup recipe.
Serve and enjoy!
besthomediet