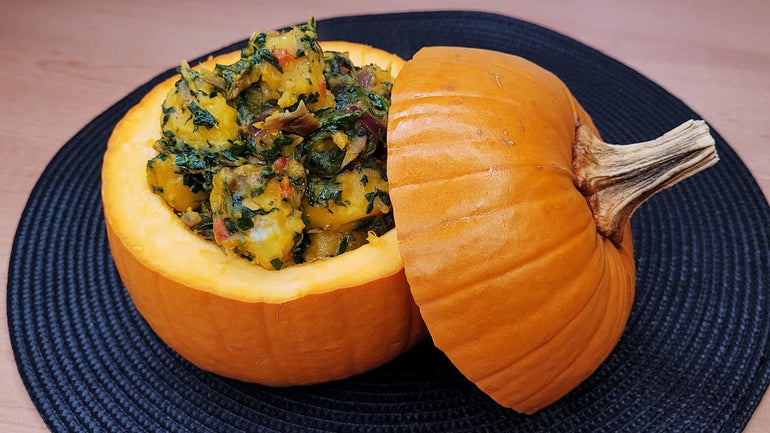 The orange looking pumpkin, popularly known as Halloween Pumpkin or Thanksgiving Pumpkin looks so much like Nigerian Fluted Pumpkin (see the video below) and it's only recently that I learnt that it is edible. I used to think it's only for decorative purposes. lol Since this discovery, it has been my desire to prepare it and see if it tastes like Anyụ (Nigerian Fluted Pumpkin). I love anyụ so much and I am always overjoyed to discover new Nigerian food alternatives as a resident of a foreign country.
So today, I will be sharing a delicious pumpkin recipe that anyone, irrespective of your country of origin will enjoy. And it's VEGAN too.
Vegan Pumpkin Recipe Ingredients
The following ingredients can be purchased in African food stores in major cities of the world. Check the notes on ingredients below for alternative ingredients.
1kg (2.2 lbs) Whole Pumpkin
800g (1.8 lbs) White yam
1 red onion
Habanero pepper (to taste)
1 cup shredded Oil Bean seeds (ụkpaka or ụgba)
¼ cup Red palm oil
300g (10 oz) Spinach
Salt (to taste)
Notes on the Vegan Pumpkin Ingredients
For delicious results, I recommend that you prepare the pumpkin in combination with a sweet staple because pumpkin on its own has a bland taste (unlike anyụ) and not a lot of people will enjoy it. Unless you are going for a low-carb meal, prepare the pumpkin in combination with either white yam (which I used), sweet potatoes or ripe but firm plantains.
I recommend red onion because it goes really well with red palm oil.
A great alternative to shredded oil bean (ụkpaka) is sauteed mushrooms. Watch the video below for how to prepare that.
For leafy vegetable, I used spinach. If you are in Nigeria, you can use ugu, green amaranth (green), fluted pumpkin leaves (shown in the video below) or garden egg leaves.
Before you prepare this delicious VEGAN Pumpkin recipe
It's always best to watch the video to get a visual picture of the recipe.
Peel the yam and pumpkin and cut into small cubes. The size of cubes for both staples should be equal.
Rinse the leafy vegetable and slice into small pieces. I also usually remove the excess water from spinach because it has a high water content which ruins recipes. See the video below.
Cut up the habanero pepper and onions.
Directions for making the delicious VEGAN Pumpkin recipe
Boil some water in a pot.
Add the yam and pumpkin cubes making sure the water is at the same level as the contents of the pot. Start cooking.
For 1 inch cubes, it takes about 25 minutes to cook to my liking but keep checking it till a knife can effortlessly drive into the yam and pumpkin cubes.
At about the 20th minute, add the shredded oil bean and some salt and continue cooking.
In another clean dry pot, add the palm oil and once hot, add the onions.
Sautée the onions for a bit and add the pepper. Sautée for a bit.
Add the sliced leafy vegetables and sautée for about 1 minute.
Add this to the pot of yam and pumpkin making sure there's little to no water in the pot before you do so. See video below.
Stir very well and add salt if necessary.
Serve with a chilled drink. You can see how I served it with a pumpkin "bowl". If you want to do that then you need to buy two pumpkins. Watch the video below for details.
All Nigerian Recipe