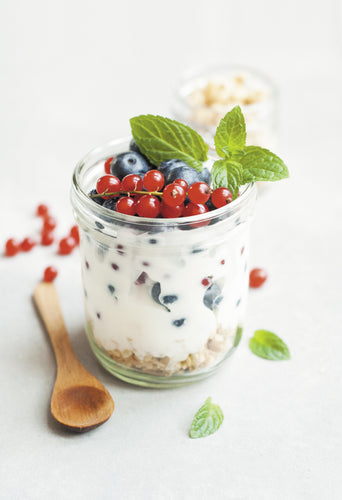 Yogurt Parfait Recipe is a simple breakfast or snack that starts with a thick and creamy yogurt layered with homemade granola and fresh berries then topped with more fresh berries and a honey drizzle. A delicious breakfast ready in only a few minutes!
If you are looking for a quick breakfast idea in the morning or a pick me up snack during the day, this yogurt parfait is just The BEST! These yogurt parfaits are low in calories, healthy and delicious! It has all that you need and love in one little cup. They are simple to make and layered so easily. 
Yogurt Parfait Ingredients
Only a handful of ingredients to make these yogurt parfaits standout, look pretty and taste AMAZINGLY DELICIOUS! You will impress yourself at how simple they are to make as well as how good they taste. Make the homemade granola ahead of time and enjoy your yogurt parfait on a daily basis. It is that simple! Add a drizzle of honey over top for a little sweetness and your yogurt parfait will be to die for! Here are the ingredients for making your yogurt parfait.
Vanilla Yogurt: Choose the yogurt of your choice. Thick, rich and creamy makes your yogurt parfait even better.
Homemade Granola: This granola is simple to make and can be stored for several days of parfaits and any other ways of enjoying it.
Fresh Mixed Berries: Fresh berries are the best! Wash, dry and cut them if needed for easy eating.
Honey For Optional Drizzle: Add this over top for a sweet taste and beautiful presentation.
How To Make Yogurt Parfaits
Simple ingredients leads to a simple yogurt parfait recipe! Pick a cup or bowl that you would love to eat out of and easy to hold, as well as tall for the pretty layers to stay in place while moving around. Every layer combines and creates an AMAZING taste and texture of smooth and creamy with a berry flavour and granola crunch.
Begin by layering your cup or bowl with your desired yogurt. The best yogurt is a rich and creamy yogurt that is usually vanilla flavoured. Vanilla yogurt is a sweet and creamy yogurt that is popular for yogurt parfait recipes. Greek Yogurt is also a favorite and has a thicker texture and also includes protein in the yogurt.
Next layer is your granola! This is a sweet and crunchy texture. With the yogurt and granola combination, it makes you to keep digging in. Having homemade granola that is filled with oats, nuts, seeds and dried fruit baked all together will definitely make you love it even more. This granola will last about 1 month if stored properly. It is that good! It is simple to add to so many recipes or just enjoy a handful at a time.
Fresh berries are added to the next layer which makes this yogurt parfait even better with sweetness and the fresh taste of berries in every bite. Add in all your favorite berries and infuse your mouth with this rich, thick and creamy yogurt parfait. It is one of the best parfaits to ever make with these layers.
Variations Of Yogurt Parfait Recipe
Make your yogurt parfait just the way you like it. Try so many variations of fruits, yogurt, granola and even toppings. The variations are endless with this yogurt parfait recipe.
Fruit: Choose your favorite fruit like sliced apples, bananas, oranges, grapefruit, pineapple or even a honey dew melon.
Yogurt: Greek or plain vanilla are great choices or you can even try flavored yogurt such as strawberry or raspberry yogurt. Mix up your yogurt flavors in your layers. Have fun with your yogurt parfait!
Chocolate: Indulge in a little chocolate. Mini chocolate chips, chocolate syrup or hot fudge makes this a little sweeter and gives you that sugary boost.
Toppings: Shredded coconut is always a fun way to top it off or adding whipping cream.
Yogurt parfaits are the BEST recipe to make on a busy day or even the day before. They are simple to make ahead of time and grab straight out of the refrigerator. Make it even easier on you when you wash, dry and cut the fresh berries that needs to be cut then place in an airtight container in the refrigerator. Next, make the homemade granola and store in an airtight container. When ready to make your yogurt parfait recipe, simply add in your ingredients that are already prepped for you.
P.S: Your yogurt parfait can be prepared ahead of time, they are best fresh and made at the time of enjoying but you can make these ahead of time. The berries do tend to bleed and color the vanilla yogurt if they sit for too long. Keep your granola separately and hold under refrigerator not more than 2 days. It is best to prepare the layers in a cup, then tightly wrap the cup the best you can in plastic wrap. When ready to eat just add the last topping of fresh berries and you have a go-to breakfast each morning.
Written By: Ebube Iyiegbu