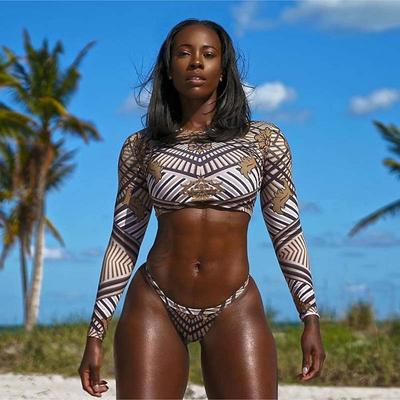 Days are getting longer, swimsuit season proper is here upon us, and the water is calling. A classic one-piece or bikini never goes out of style, but summer 2021 brings forth a fresh batch of fun swim trends to try. From comfort-first styles to sexy high-cut suits and beyond, these are the top five African print swimsuit trends making a splash this season on ShopAfricaUSA. Live in the moment and shop them now.
African prints
are sure to be the star of summer 2021, and this suit is truly far out. The adjustable strings are simply the icing on the cake, as they flatter your form and keep your suit on tight.
This is the ideal bikini to be seen in on your next vacation. The strings are strategically designed to emphasize an hourglass shape as they wrap around the body.
These high-cut bikini bottoms will hug your body just right. The rope ties are an elevated take on a string bikini and are strong enough to handle any current. With adjustable straps, you can trust in your suit and just have fun.
A more sophisticated take on
African print swimwear
comes by way of this sustainable
one piece
that carries an aura of the tropics. Made from 100 percent cotton fabric that gives you that ultra smooth against the skin so you can enjoy superior comfort has an open back vintage style. This is a purchase that just feels right. Love on the ocean with this piece.
Cutouts have proven that they're here to stay and for good reason. They are the best way to take a classic silhouette and give it a fresh new look. Flattering on all bodies, they simply show a bit of extra skin. Just don't forget your sunscreen!
A swimsuit that stopped us in our tracks, this piece is the definition of chic. With bold sleeves that billow in the wind and cutouts that show off your shape, you'll never want to take it off. This piece was strategically designed to make you look your best. The cutouts come in at the most flattering parts of your waist to amplify your natural curves. And with a high neck, your torso will be elongated for a lean look.
- Ebube Iyiegbu