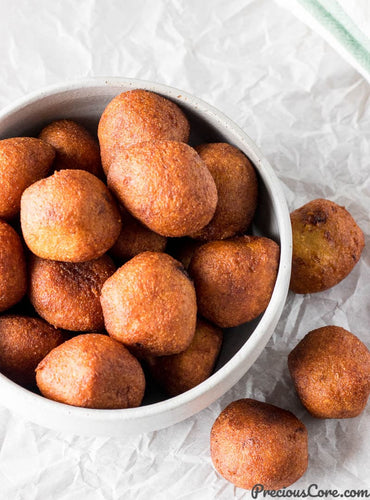 Accra Banana is basically African Banana Fritters - Bananas combined with grated cassava (yucca root) then fried. The result is crunchy-on-the-outside, tender-on-the-inside balls of perfection that are to die for. The perfect appetizer, snack, party food or accompaniment to your tea or coffee. 
Keyword:
Accra Banana, Banana Fritters
6

 

overripe bananas

3

 

pounds

 

grated cassava

1

 

cup

 

garri

 

substitute with cornmeal

2

 

teaspoons

 

salt

Oil for frying
Instructions
Peel bananas and place in a bowl. Mash with a wooden spoon or potato masher to form a paste.

Add grated cassava, garri (or cornmeal) and salt to the mashed bananas. Mix well to combine.

Place oil in a frying pan or pot up to 3 or 4 inches. Heat up for about 8 minutes on high heat to 350 degrees Fahrenheit (180 degrees Celsius).

Take about a tablespoon of the mixture and form a ball about 1 inch in size. Gently place the ball in the oil. Continue forming more balls and placing in the oil until there are enough balls to cook in the oil (but not overcrowded). Let them cook for about ten minutes while you stir from time to time. Take the Accra Banana out of the oil when it is a deep golden brown color. Place on paper towels to absorb the excess oil. Repeat the forming of balls and frying process with the rest of the mixture. Note: see the video to get a better picture of how to do this.

Serve the Accra Banana with African pepper sauce, tea or coffee.
Recipe Notes
1. It is best to use overripe bananas in this recipe as they yield the most flavor. However, if regular ripe bananas are all you've got then feel free to use them.
2. Here is the recipe for the African pepper sauce (hot sauce) that goes with Accra Banana.
3. You can purchase already grated cassava from the freezer section of Asian stores. It is sold in one pound packets. Allow to thaw at room temperature then you can use. 
Author: Precious Nkeih of preciouscore.com