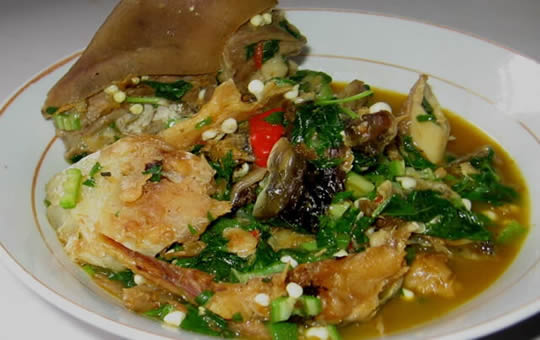 Ofe Ugba, native to Imo and Abia states of Nigeria is simply Okra Soup cooked with shredded oil beans. You can call it Ofe Ukpaka or Shredded Oil Bean Soup.
For 4 servings, you will need:
20 okra fingers
1 cup of ugba (milk cup is ok)
2 pieces dry fish (dry cat fish or mangala fish)
2 pieces stockfish (dry cod fish)

1 smoked mackre 

(smoked titus fish)
2 cooking spoons palm oil
Habanero pepper (atarodo, ose oyibo, atarugu: to taste)
1 handful

 crayfish

1 piece of ogiri okpei (dawa dawa, iru)
1 onion
Garden egg leaves (alternative: spinach)
Salt (to taste)

Notes on the ingredients

With most Nigerian recipes, especially Nigerian soups recipes, we go freestyle when it comes to the quantities of ingredients. The quantities of all the ingredients listed above can be adjusted to your taste. In everything you do, let the ugba shine through.
I used only fish in preparing this soup, feel free to add meat if you wish. Do not use chicken ooo.
Add palm oil to your liking.
For the leafy vegetables, add the quantity you like. If you are in Nigeria, use aku ofe (garden eggs leaves), outside Nigeria, use leafy spinach.
You can use cayenne pepper (fresh fish) if you wish.

Before you cook Ofe Ugba

Rinse all the vegetables and fish thoroughly. In Nigerian markets, dry fish and stockfish are displayed in the open hence contain dust and sometimes fine sand. So wash these very well and rinse in plenty of water.

Soak the stockfish for a few minutes and clean with a food brush.
Soak the dry fish in cool or lukewarm water till soft. Clean, debone and break into pieces.
Break the smoked fish into small pieces, debone and rinse.
Grind the crayfish and the ogiri okpei with a dry mill.
cut okra fingers into pieces. For the best Ofe Ugba, please do not blend the okra. You can grate it but hand cut is the best.
Slice the onion into small pieces.
Cut up the pepper into small pieces. You can grind it if you wish.
Cut the garden egg leaves into small pieces.
Cooking Directions
Place the stockfish in a pot, add some water and start cooking. Add water in small amounts and top up when necessary because you want as little water as possible in the pot when done. I use a pressure pot to cook stockfish, softens in no time.
When the stock fish is soft, use the cooking spoon to break it into small pieces.
Add the dry fish, ugba, crayfish and ogiri okpei, pepper, onions, smoked fish, salt and palm oil. Cover the pot and continue cooking on high heat. Stir often so it does not burn.
After about 5 minutes, add the leafy vegetable and okra, stir and add salt if necessary. You want as small quantity of water as possible in the soup before adding the vegetable. I used leafy spinach, watch the video below to see how I pre-prepared the leafy spinach before adding it to the soup.
Take the pot off the stove and transfer to another container immediately so that the green vegetables stay green.