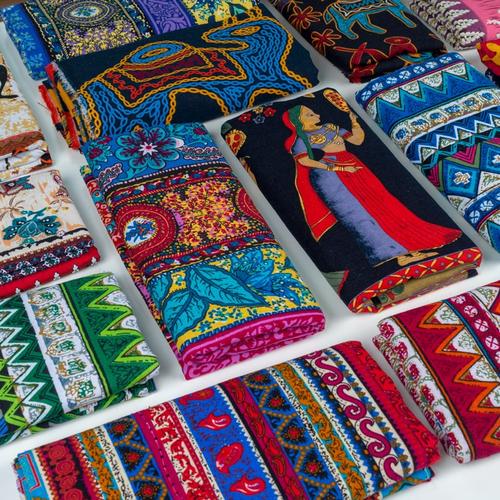 African prints are known for its intricate composition of designs that portray the culture, tradition and history of Africans. All this incorporating prints, If added to your style will make it stylish and makes one look elegant.
The textile used to make African prints is called Ankara fabric that is also referred as African wax prints fabric. The Ankara fabric is known for its colorful African prints and is deeply associated with African clothing. One of the best things about Ankara fabric is the intensity of its African prints which does not change compared to other printed textiles that fade quickly. This is because of the "wax resistant" technique used in printing the textile.
African Ladies Printed Blouse & Long Pants
African prints in  Ankara fabric can be handmade or produced on a large scale textile machines. If you want a unique African print, then go for handmade Ankara for where no two patterns are the same. On the other hand, machine-made Ankara typically has imperfections or a "crackling" effect.
Won't it be unbelievable to find out that the African textiles aren't originated in Africa? In 1846, there was a high demand for printed cotton, so Dutch entrepreneur Pieter Fentener Van Vlissingen mechanized the method used to make prints on batiks—a popular cloth worn in Indonesia. Yes, the African textile that is known as 'Kitenge' in East Africa and 'Ankara' in West Africa was first produced in Indonesia.
The method of producing African print fabric is called batik, a process where designs are printed onto the cloth using wax before using dye. You'll notice the crackling effect on the African textile, and it is caused by the wax-resist dyeing technique. His company, Vlisco, introduced the printed textile to Ghana, and the fabric has gained an African identity.
 Despite Ankara uniqueness, many materials are pirated and sold to the market. If care is not taken , an individual might end up buying the wrong material. While the difference between fake and original Ankara fabrics is difficult to know, it's pertinent to note that the time must be invested in learning about the original Ankara fabrics. That learning saves you against market scams and guides your selection processes.