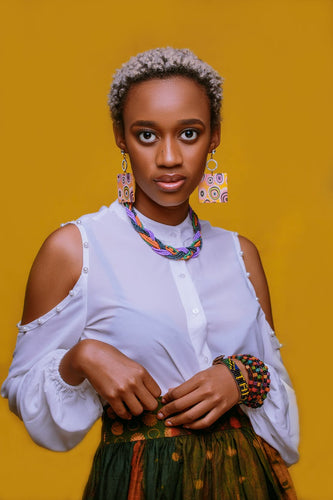 Do you want to make any of your looks catch the eye? Wearing these accessories will do justice to that. Accessories can transform your style in a very unique way and will even be more unique when you add a small detail such as a piece of African jewelry, bracelet and many more. Below is the top accessories in Shop Africa USA;
Shop Africa USA has got a lot of African fashion necklaces with different styles. Some of these necklaces come in form of layers and can also be single while others might be chokers.
Most African necklaces come in set and comprises of a necklace, earring bracelet and ring. They are really beautiful and makes anyone who puts it on look elegant and stylish. They can be worn to weddings, engagement parties etc.
African Jewelry Sets for Women
This vintage maxi necklace is unique because It can be worn as a choker without the pendant and with the pendant to any fashion show off. It features just a necklace and a pair of earring. 
Multi Layer Pearl Jewelry
Bracelet symbolises your relationship with someone. It can also be used as a fashion accessory to match your outfits when going out.
There are so many varieties of bracelets. They include the bangle bracelet, chain bracelet, cuff bracelet, bead bracelet, pearl bracelet, leather bracelet and many more. All these bracelets are of good quality and also gives one a stylish look.
Fashion Love Bracelet
These earrings will help you complete every kind of look. It can be slayed on a casual outfit or something a little more statement. These perfect earrings adds glamour to your outfit. It is suitable for birthday parties, office, fashion events etc and also an ideal gift to Friends/Lovers/Birthday/Mother/ etc. 
This ring is made from an excellent copper material and exquisite workmanship. It features a tarnish resistant therefore it does not rust. It has a trendy style and a unique design. It can be worn to any occasion.
5 Style Ethiopia Gold Color Arab Rings
Say goodbye to unpleasant sweaty or itchy experiences which make you feel uncomfortable throughout the day with this lightweight, breathable head wrap for women, suitable for everyday wear, office, festivals, fairs or special occasions!
African Ankara Print Headwraps
Headwear is ideal to have a stylish head covering. Great for all seasons: autumn, summer, winter, spring, festival, fair, vacation.
 This headwrap is made from 100% Cotton wax fabric adorned with playfully sophisticated colorful designs and patterns with earrings. It is bound to add some flair to your every day dressed down outfit, and can also be used for a unique high fashion look.
 Wear this precious adornment on bandhgala, stylish shirt and any jacket to get a larger-than-life look.
Stand out in the crowd by adding this element of style and colour to your outfit.
A beautiful sturdy pin is attached on the back of each brooch making it possible for it to grip firmly on your fashionable attire. The rustic purple color can easily match any outfit. 
WRITTEN BY PRECIOUS EKECHUKWU