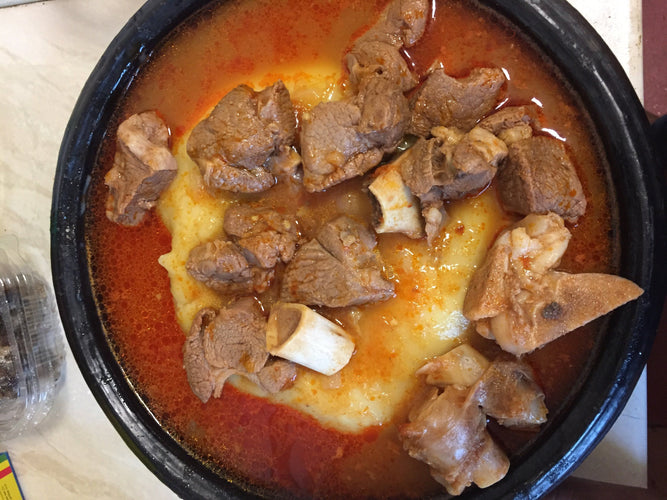 Like most African and Middle Eastern dishes, Fufu is typically eaten by hand, and is served with a tasty sauce/soup. This fact might intimidate you if you if you grew up in a Eurocentric environment that tends to place stock on using cutlery/silverware to eat. If you have no experience with finger foods, I recommend you "warm" yourself up by first being open minded and perhaps starting slow with Ethiopian finger food, and then work your way up to Fufu, which is a more complex eating experience. Fufu is a very heavy meal, so in Ghana this dish is typically eaten on Sunday afternoons, when most people come in from prayers at their respective temples, and there is nothing left in the day to do. The idea is you prep yourself, enjoy the meal preferably with a chilled Guinness, Heineken or water, and then go into a state of 'Fufu paralysis,' which usually involves a long nap as the Fufu maps its way through your digestive system.
For this post we are going to showcase Fufu and Light Soup, my favorite Fufu combination. If you are in the New York area, I highly recommend you check out Papaye Restaurant in the Bronx to sample this dish. If you ever visit Ghana, I strongly recommend you try it first at a "professional" establishment: be it a reputable restaurant, Chop Bar or Ghanaian family with good cooks before trying to make it yourself. This way you can get a sense of what it is supposed to taste like and give you a goal to aspire to.
If you don't live in Ghana, you can order "processed/powdered Fufu" that can be made easily in a pot. It doesn't taste as good nor as fresh as the real thing, but it is a decent substitute. Watch the video at the end of this post to learn how to use processed Fufu.
Ingredients:
~1 teaspoon of peeled, fresh grated ginger (about an inch to 1 1/2 inch)
2–3 cloves of garlic, crushed
1/2 teaspoon of ground aniseed (sekoni) or other seasoning of your choice
1 heaping teaspoon of no-salt seasoning of your choice (I'm using Mrs. Dash garlic and herb; many Ghanaians would likely use a couple of seasoning cubes)
1/2 to 1 teaspoon of ground dried red chili pepper
1 teaspoon salt (or to taste, or substitute seasoning salt)
2 small bay leaves
1/2 cup onion, chopped
3 whole kpakpo shito, whole, if available and (if not, substitute your choice of pepper(s), top(s) sliced off (about a tablespoon), or omit altogether
Process:
Put the goat meat in a soup pot and season it with the above ingredients. Stir the goat meat well, and add 1/2 cup water to the pot. Cover, bring the water to a boil, lower the heat to simmer while you prepare a second pot with:
4 oz of washed tomatoes, whole (1 large or 2 small-to-medium. I used 4 small Campari)
~4 oz of peeled onion (about 1 medium)
Fresh whole red chilli peppers to taste (probably 1 to 3, depending on type and heat), tops cut off, and seeded if you like
4 cups of water
2. Bring that water to a boil and simmer 10 or 15 minutes until the vegetables are soft, then remove grind them together (in a blender or anasanka) and return them to the water in the second pot, along with 4 more cups of water.
3. Stir in 1 tablespoon of tomato paste, let it simmer a few minutes, and add the broth to the meat. Let the soup simmer until the goat meat is tender, then remove the goat meat and, for a nice clear soup, strain the broth through a sieve, into the using a spoon if necessary to help force some of the ground vegetables through the sieve (scrape the underside of the strainer with a spoon).
4. Return the meat to the pot and adjust the seasonings (salt, onion, tomato, pepper, etc.) to taste. This may need to simmer for a couple of hours: goat meat tends to be tougher than beef. Add a little more water if necessary.
Hint: To simplify this recipe, grind the vegetables (tomatoes, onion, pepper) at the beginning and add them to the meat pot, along with 8 cups of water. Barbara insists that the best flavor is obtained if you first allow the goat meat to simmer for 15 minutes before adding the vegetable broth.
Hint: There are many variations of this recipe: you can cook some eggplant or zucchini in a saucepan, then blend and add it near the end for a thicker soup; or you can add many other vegetables like okra or mushrooms, or other herbs or seasonings.
Happy Eating!