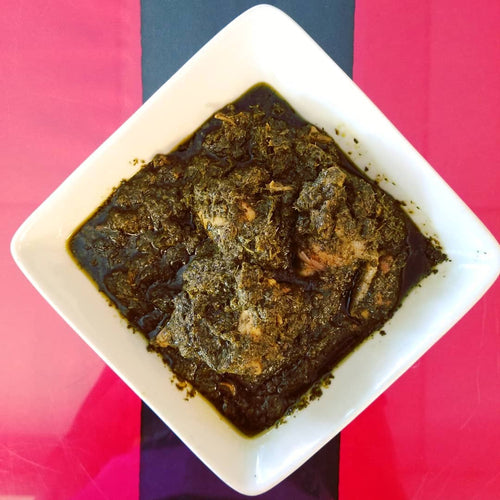 Isombe is a typical Rwandan stew made from mashed cassava leaves and other ingredients such as tomatoes, onions, coriander, garlic, Maggi seasoning, and peanut butter. The dish often has a meaty flavor although it contains no meat due to the usage of stock from boiled beef bones.
Ingredients 
1 kg cassava leaves (Pounded) 
1 package spinach
4 green onions or leak, chopped 
2 green peppers 
¼ litre palm oil (high-quality)
4-5 serving spoons ground nuts 
3 beef spice cubes 
Salt – to taste 
2 litres water  
Instructions 
1) In a pot, cover the cassava leaves with cold water and bring to a boil. Then strain the water out, and bring it back to the pot and boil for 45 minutes to 1 hour.
2) Prepare the other vegetables, cutting them in small pieces and add to the pot. Mix and boil for another 15 minutes.
3) Add the palm oil and the ground nuts and keep stirring to avoid it sticking on the pot which will lead it to burn.
4) Season with salt and the other spices.
5) Reduce the heat to minimum and simmer for 30 min to 1 hour.
6) Serve over rice, ubugari or your preferred main dish.