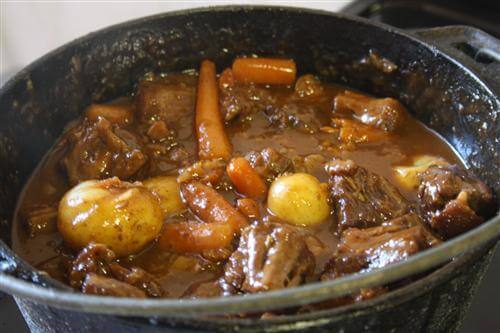 A potjie is fantastic for any safari you go, it is a very social occasion with everyone helping out with the preparation of the meat and vegetables and then sitting around the fire as it bubbles away. This is a great recipe for when you are in Namibia, or just chilling out on the back porch at home.
Ingredients:
2 TBS vegetable oil
1.5kg neck of mutton, sliced into pieces
3 medium onions, chopped
500g baby carrots, washed
500g baby potatoes, washed
1 TBS sugar
2 TSP mild curry powder
1 TSP ground turmeric
120ml milk
Salt and pepper to taste
Method:
Heat the oil in a potjie pot. Add the meat to the pot and season with salt and pepper. Cook until browned, adding a few pieces at a time. Remove the browned meat and set aside. Add the onions to the pot and sauté until soft but not coloured (about 4 minutes). Return the meat to the pot, then add enough water to cover the ingredients. Place the lid on and simmer gently for one hour. Now you can add the carrots and potatoes and continue simmering for 30 minutes. Mix the sugar, curry powder and turmeric with the milk and stir into the stew. Bring it back to the boil and simmer for 15 minutes. Mix the potjie gently and if it looks a bit dry, you can add more water. Continue simmering for 15 more minutes, then serve with rice or mieliepap (polenta made from ground maize).
Recipe courtesy of Celnet.org.uk