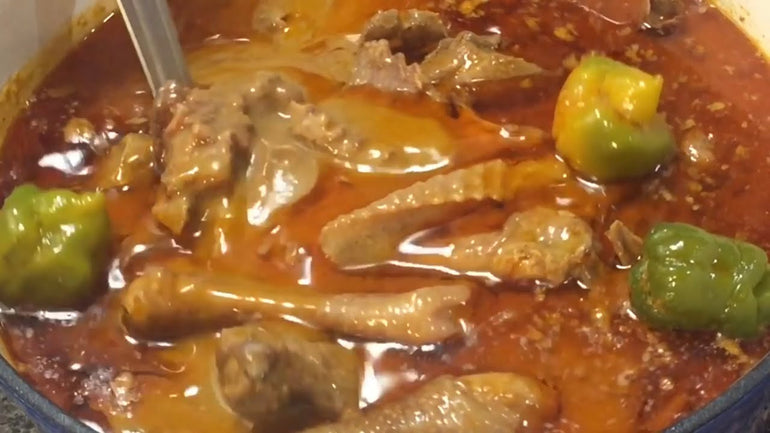 his is a light version of a very popular Ghanaian soup widely known as groundnut soup or, as mama would call it, peanut butter soup. I used less peanut butter than usual to keep it light, but you can use as much or as little as you like. You will need a blender for this.
Ingredients
2 medium onions or 1 large one
3 very ripe large tomatoes
A whole chicken, chopped to pieces (we like "boiler" chicken, free range, "koko ya Setswana")
Graden eggs (optional)
12 okra (with ends trimmed)
1 scotch bonnet pepper or kpakpo shito
Ginger
2 bay leaves
1 rosemary sprig
1.75l chicken stock
4 tbsp peanut butter
Water to mix with the peanut butter
Method
1. Place the whole onion, pepper, tomatoes and chicken pieces in the pot and top with the stock. Cover, bring to the boil and reduce to simmer for 15 minutes till vegetables are soft and tender. Remove the vegetables.
2. Blend the vegetables and ginger in a food processor and return to the soup. Bring to the boil then reduce to simmer while you make the peanut butter sauce. If you are using boiler chicken, it can be quite tough, so it may need extra time cooking.
3. Meanwhile, make the peanut butter sauce. There are different ways of doing this, I have opted to go for what is easier for me. Scoop the desired amount of peanut butter into a saucepan and put on gentle heat with constant stirring, peanut butter burns easily.
Note: Add water a little at a time. This can be quite tricky as the water instantly changes the runny peanut butter properties. I would say it is a similar experience to white sauce, when the milk is added to the flour and butter mixture. Once a smooth sauce is achieved, allow to simmer. You will find the peanut oil begins to separate from the peanut butter. When this happens, you can add the peanut butter sauce to the rest of the soup and simmer for 20 minutes till oil rises to the surface of the soup.
4. Check seasoning to your taste. Serve with your favorite carbs such as boiled sliced yam, potatoes or rice.
Traditionally, this is served with fufu, a west African starchy staple made of pounded cassava, yam, or plantain. Easy to make fufu powder is available in the exotic or world foods section of most supermarkets.
Bon appetite.