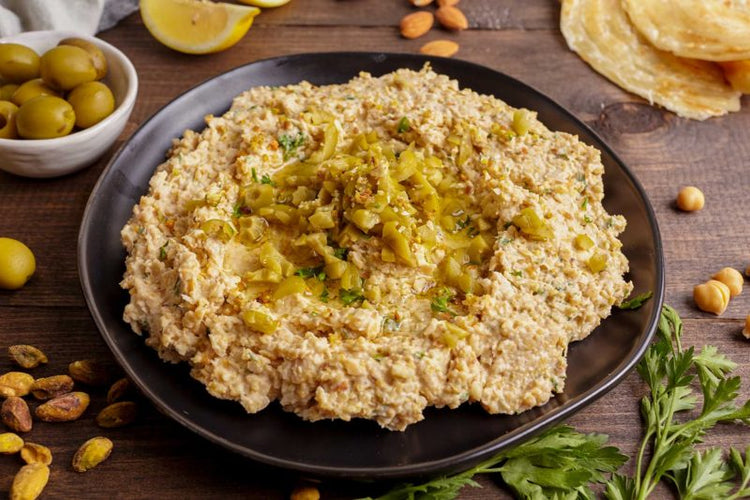 Hummus is one of the most commonly served dishes at Middle Eastern restaurants. Hummus means "chickpeas" in Arabic and is actually an abbreviation of the Arabic name of the dish hummus bil-tahina, which means hummus with tahini. This simple but typically bland dip has five essential ingredients: chickpeas, tahina (sesame paste), olive oil, lemon juice and garlic. While hummus bil-tahina is served in Egypt today, it is more frequently found at traditional restaurants than at home.  The recipe you find here is an original, authentic hummus recipe.
We don't know the exact origins of hummus in Egypt, but it is unlikely ancient. While a jar of chickpeas and heads of garlic were found in the tomb of the boy king Tutankhamun, the other basic ingredients in hummus were introduced to Egypt in the Greco-Roman period or later.
The authentic hummus recipe below  is based on the ingredients and techniques found in several medieval hummus kasa recipes, none of which give measurements of the ingredients, so you can play with quantities as you like. While hummus kasa can be served immediately, one recipe recommends leaving it for 24 hours before serving, which would allow the flavors to meld.
Ingredient
1.5

 

cups

 

chickpeas (15 oz can), drained and rinsed

1/2

 

cup

 

tahini

1/2

 

cup

 

wine red wine vinegar

2

 

tbsp

 

fresh parsley

2

 

tbsp

 

fresh mint

1/4

 

cup

 

shelled pistachios, raw

1/4

 

cup

 

shelled walnuts, raw

1/4

 

cup

 

almonds, raw

1/4

 

cup

 

hazelnuts, raw

1/8

 

tsp

 

thyme

1/8

 

tsp

 

caraway seeds

1/4

 

tsp

 

coriander seeds

Salt, to taste

1/2

 

cup

 

black or green olives, pitted or with pits

1

 

preserved lemon, chopped into pieces (optional) or a squeeze of lemon juice
INSTRUCTIONS
Mash the chickpeas with a fork or potato masher.

Stir together the olive oil, red wine vinegar and tahini and then mix in with the chickpeas.

Toast all of the nuts in a skillet on medium heat. Stir often, careful not to burn. Should take about 5 minutes. Remove from heat.

Finely chop parsley and mint in a food processor and then add the nuts and coarsely chop the nuts. Add herbs and nuts to chickpea mixture.

Mix the remaining spices into the chickpeas. Top the hummus with olives and either chopped, preserved lemons or a good squeeze of lemon juice.
NUTRITION
Calories:

 
260
kcal
Carbohydrates:

 
7
g
Protein:

 
6
g
Fat:

 
25
g
Saturated Fat:

 
3
g
Polyunsaturated Fat:

 
7
g
Monounsaturated Fat:

 
13
g
Trans Fat:

 
1
g
Sodium:

 
139
mg
Potassium:

 
205
mg
Fiber:

 
3
g
Sugar:

 
1
g
Vitamin A:

 
200
IU
Vitamin C:

 
3
mg
Calcium:

 
55
mg